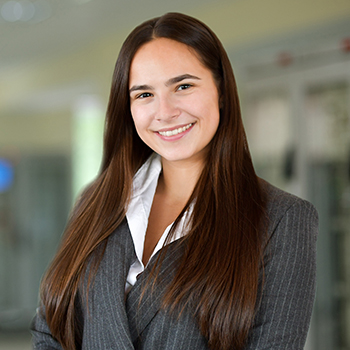 KATERYNA BAKHMACH
Chief Executive Officer
Having obtained her bachelor's degree in Business Administration at Northeastern University, Boston, and a master's degree in International Marketing at Hult International Business School, Kateryna started her business career by hands-on business experience where she quickly learned how to utilize effective marketing strategies and communicate properly to build strong relationship with foreign partners. She has become a great facilitator between the Company owner and other executives to manage a workplace where employees can grow in their roles and feel like valued members of the Team. Kateryna is an optimistic ambassador for Company's brand. She successfully leads Radics business in a constant flux of a fast-paced technology-driven competitive reality. Staying curious and agile, she keeps focused and demonstrates strong leadership and vision. Kateryna's commitment, transparency and optimistic attitude are held in high regard by Radics employees.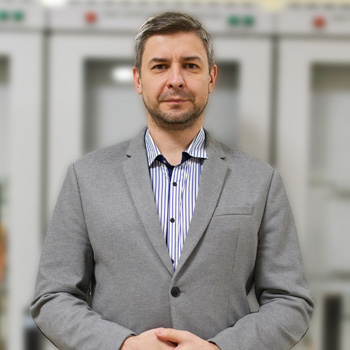 OLEKSANDR IVASYUK
Chief Operating Officer
Oleksander graduated from Kharkiv Military University and holds a bachelor's and master's degree in Control and Automation Systems and Communications. He is currently responsible for formulating strategy for a specific project and oversees quality control of finished units while continuously improving performance and being open-minded to different situations that occur in the workplace. Oleksandr has an extensive knowledge in nuclear engineering and with more than 10 years of experience in nuclear power industry. He joined the company in 2012 as a Head of Validation Department and quickly obtained outstanding technical proficiency in I&C systems for safety applications. While holding a position of Projects Director at Radics LLC (2019-2022) Oleksandr developed in-depth knowledge of product design and learned how to effectively plan and monitor the day-to-day operations of project implementation process to secure compliance with most demanding customer's requirements.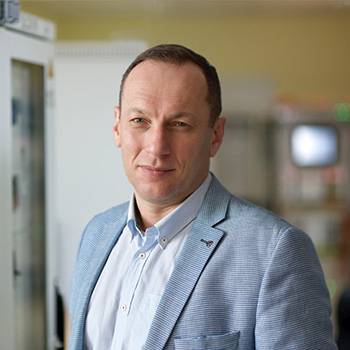 OLEKSANDR BEGUN
Quality Assurance Manager
Oleksandr joined a forward-thinking team in Radics LLC in 2013 and started his career in the Company as a Senior QA Specialist. He was involved in the development of Radics QA System and participated during first stages of implementing and maintaining the Quality Program compliant with NQA-1-2008. As a member of the Quality Assurance team, he has been working with Global Quality Assurance consultants who provided thorough and comprehensive evaluation of Radics' Quality Management Program and found it fully compliant with the most rigid nuclear quality requirements. In 2022 Oleksandr was assigned the Quality Assurance Manager at Radics LLC. Using his acquired experience, Oleksandr together with all Radics team has been working on continuous improvement of Radics Quality Program aiming to ensure high quality of our products and services.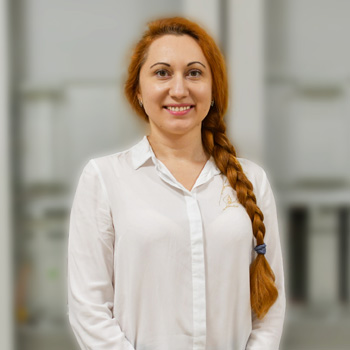 NATALIIA RVACHOVA
Deputy Chief Operating Officer/Project Manager
Nataliia plays a key role in driving our projects forward and making sure they are executed according to our customers' expectations. She obtained her bachelor and specialist degrees in Telecommunication Systems and Networks at Poltava Military Institute of Communications. She also extended and strengthened her knowledge by obtaining master's degree at Odesa National Academy of Telecommunications as well as the PhD at Kharkiv National University of Radio Electronics. Within more than five years in project management, Nataliia has successfully implemented numerous projects. Having completed Project Management certification in the International Management Academy in Germany, Nataliia continues gaining experience while working on Radics' international projects. We are entirely confident in Nataliia's excellent leadership skills and her enthusiasm to implement our company's mission and strategies.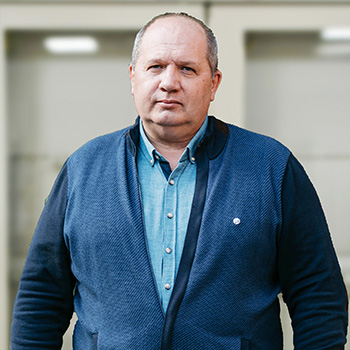 OLEG ODARUSHCHENKO
Verification Department Manager
Oleg is one of the most experienced managers at Radics LLC. Since 2012, he has been leading the development and execution of verification activities to enable the capture and evaluation of objective evidence to make sure that the most specific technological requirements have been met. Holding a degree of Doctor of Technical Sciences as well as being extensively trained in product domain and functional safety he continuously develops and maintains testing procedures to verify and validate whether systems conform with performance requirements. Oleg demonstrates deep knowledge in system development and using tools for verification processes. He trains Radics personnel to perform verification activities and works as part of a high performing team, collaborating effectively with staff at all levels.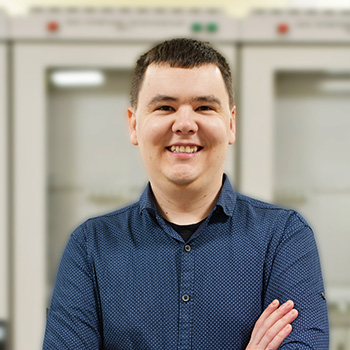 DMYTRO KAIDASH
Validation and Commercial Grade Dedication Department Manager
Dmytro has been one of Radics' key specialists since 2018 when he started his career of Validation and Commercial Grade Dedication Engineer in the company. However, he got his first experience in programming after he graduated from Kropyvnytskyi Cyber-Technical College. Upon completion of the Computerized Control Systems and Automation course in Central Ukrainian National Technical University, Dmytro has become the leading engineer directly involved with every aspect of the product release stage. He has accumulated significant experience to run validation tests and ensure that the application meets the customer's needs. During the SIL 3 certification process of FPGA-based Safety Controller (FSC) of I&C digital RadICS Platform, Dmytro has learned and implemented internationally recognized methodologies to identify the product critical characteristics and verify its acceptability as an equivalent to an item designed and manufactured under a 10 CFR Part 50, Appendix B, Quality Assurance Program. In addition to his primary responsibilities, Dmytro continuously coaches our QA engineers.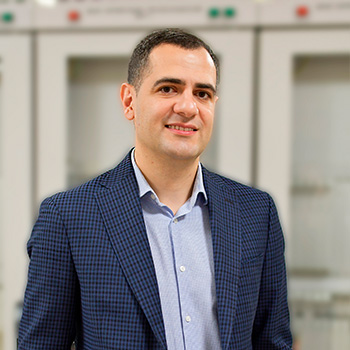 ROMAN TSATURIAN
Marketing Manager
Roman's marketing career in Radics LLC started in 2019. Since then, he has developed and implemented strong marketing strategy and tactics to position and promote our products and services on the global nuclear power market. With his versatile communication skills and creative thinking, he has been doing an excellent job in raising awareness on RadICS technology. Roman also adds value to the marketing initiatives using his educational background in International Economics, which has been a part of his professional expertise for over 15 years. He is an enthusiastic and hardworking member of Radics team, also going an extra mile to achieve desired results and exceed expectations.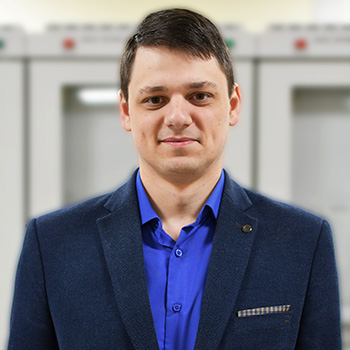 YURIY SHAPOVALOV
Installation and Integration Department Manager
Yuriy joined Radics LLC in 2012 after graduating from the Kirovohrad National Technical University where he successfully completed a degree in Control Systems and Automatics. He accumulated considerable experience in system engineering by working as an adjuster of electronic equipment and ensuring reliable performance of electronic systems. He continuously develops his technical skills to detect and diagnose existing and potential problems as well as to provide effective solutions to ensure optimal operation of the product. In 2017, Yuriy was awarded the municipal award for outstanding skills in installation and integration of electronic equipment in Kropyvnytskyi, Ukraine, and was assigned the position of the Installation and Integration Department Manager. Thanks to his profound knowledge of FPGA technology, Yuriy can instantly utilize effective processes and procedures that allow to efficiently monitor, measure, and record every aspect of the electronic equipment control.
OLEKSDANDR SIORA
Equipment Qualification and Calibration Manager, Senior Researcher
At Radics LLC, Oleksandr's role is crucial as he develops methodologies to effectively assess and inspect equipment to ensure that a given product element complies with technical specifications and fully meets customer's requirements. He also analyzes potential errors or misuses that can pose a costly risk and/or time delay for project outcomes. Oleksandr joined our company soon after he graduated from Kremenchuk University of Economics, Information Technology and Management. He continuously develops skills in software development, computerized automatic and control systems, and Lab VIEW programming. In 2017, he was certified as a National Instruments LabVIEW developer. Since then, he successfully utilizes his experience while implementing projects for nuclear power industry. Oleksandr has extensive knowledge and expertise in lab equipment and measurement techniques. Another side of his responsibilities within the team also includes comparing measurement values of the product/system under testing to the traceable referenced device or standard.